In Neighbors' Basements Seeds Are Found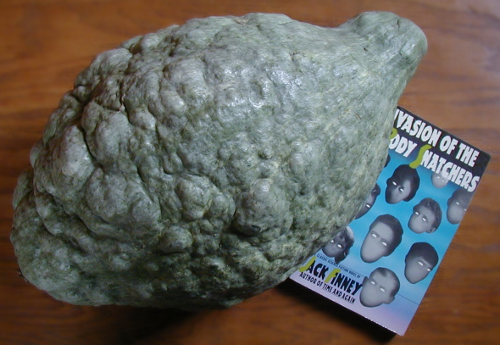 lyrics: Rich Brown
plot: Jack Finney, Invasion of the Body Snatchers
tune: Amazing Grace, traditional

A brazen race, our planet found
They'd braved infinity.
With light years crossed they wafted down
Inside our small valley.

Their way's to place some seeds around
Enslave identity.
'Twas at our cost, they touched Earth's ground
To bind humanity.

For days, I chased wild rumors down
These strange things shouldn't be.
At times it seemed somehow my town
Defined insanity.

This crazy case just made me frown
Impossibilities.
Then what I saw made me unwound –
Some bland, unformed bodies.

I gazed at faces soft and round
Dread shades of yet-to-be.
And one such body did astound –
It kinda looked like me.

Dismayed, we raced to flee our town
We drove off franticly.
Then turned, exhausted, homeward bound
To find our enemy.

My office space (Main Street, downtown)
Behaved as roost to me.
At my front window I pulled down
The blind, so I could see.

Invasion base established now
Pods moved more openly.
From trucks they tossed fresh seed-pods down;
Each rind held tenderly.

Pods cased my place and we were found
No chance of wresting free.
And one pod-person did expound
upon pod history.

"Light rays in space, push seeds around
They crave life's energy.
We once were sparse, but now abound;
Our kind spreads endlessly.

"You'll be replaced, once sleep is sound
It's painless, as you'll see.
If passion's lost, that's not profound;
Won't mind; that's how you'll be."

I braced to face defeat, then found
I'd not go willingly.
With bones, and blood, we could confound
Pods' mindless mimicry.

By day's break we were jailward bound
Said we'd go peaceably.
We double-crossed, and stuck their round
Behinds with morphine. The…

…highway's the place toward which we wound
A pod field stood between.
In vain, I tossed a match I'd found
In tractor gasoline.

A blaze soon raced, some seeds turned brown
Then scorched and ceased to be.
The flames, alas, too soon died down.
Ex-townsfolk turned toward me.

No rage, they paced that burned farm ground
And savored victory.
Just then our battle turned around;
Behind them, I could see:

Pods raise in place; retreat seemed sound
To space sped silently.
They'd never lost before they found
Mankind's hostility.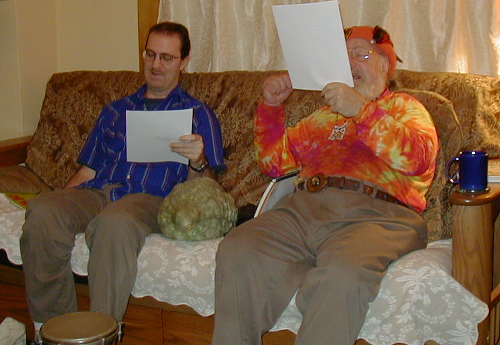 left to right: Thorin, Pod, Richard
Lyrics: Copyright 2009, Rich Brown (?subject=re:%20www.FreeMars.org/filk/neighborsbasements">) Hit number:

Last rev: