MarsCon's
1st Annual MarsCon Masquerade Ball
Nov 3rd, 2007
Images shot on Nov 3rd, 2007.
Shot with a Nikon D40
(Click on any thumbnail to see a larger 1504x1000 JPEG image)
Saturday Nov 3rd, 2007

MarsCon Masquerade Ball 2007

MarsCon Masquerade Ball 2007

MarsCon Masquerade Ball 2007

MarsCon Masquerade Ball 2007
pano 1 5-13

MarsCon Masquerade Ball 2007

MarsCon Masquerade Ball 2007

MarsCon Masquerade Ball 2007

MarsCon Masquerade Ball 2007

MarsCon Masquerade Ball 2007

MarsCon Masquerade Ball 2007

MarsCon Masquerade Ball 2007

MarsCon Masquerade Ball 2007

MarsCon Masquerade Ball 2007

MarsCon Masquerade Ball 2007

MarsCon Masquerade Ball 2007

MarsCon Masquerade Ball 2007

MarsCon Masquerade Ball 2007

MarsCon Masquerade Ball 2007

MarsCon Masquerade Ball 2007

MarsCon Masquerade Ball 2007

MarsCon Masquerade Ball 2007

MarsCon Masquerade Ball 2007

MarsCon Masquerade Ball 2007

MarsCon Masquerade Ball 2007

MarsCon Masquerade Ball 2007

MarsCon Masquerade Ball 2007

MarsCon Masquerade Ball 2007

MarsCon Masquerade Ball 2007

MarsCon Masquerade Ball 2007

MarsCon Masquerade Ball 2007

MarsCon Masquerade Ball 2007

MarsCon Masquerade Ball 2007

MarsCon Masquerade Ball 2007

MarsCon Masquerade Ball 2007

MarsCon Masquerade Ball 2007

MarsCon Masquerade Ball 2007

MarsCon Masquerade Ball 2007

MarsCon Masquerade Ball 2007

MarsCon Masquerade Ball 2007

MarsCon Masquerade Ball 2007

Sean

Nina

MarsCon Masquerade Ball 2007

MarsCon Masquerade Ball 2007

MarsCon Masquerade Ball 2007

MarsCon Masquerade Ball 2007

MarsCon Masquerade Ball 2007

MarsCon Masquerade Ball 2007

MarsCon Masquerade Ball 2007
pano #2 83-86

Masquerade Ball Judge Edna

MarsCon Masquerade Ball 2007 3rd place

MarsCon Masquerade Ball 2007 2nd & 3rd place

MarsCon Masquerade Ball 2007 1st place

MarsCon Masquerade Ball 2007 2nd, 3rd, 1st place

MarsCon Masquerade Ball 2007

MarsCon Masquerade Ball 2007

MarsCon Masquerade Ball 2007 Judge's Workmanship Choice

MarsCon Masquerade Ball 2007

MarsCon Masquerade Ball 2007
Mark's Pics

Nina & Mark
Mark's Pics

MarsCon Masquerade Ball 2007
Mark's Pics

MarsCon Masquerade Ball 2007
Marks Pics

MarsCon Masquerade Ball 2007

MarsCon Masquerade Ball 2007

MarsCon Masquerade Ball 2007

Art & Lucia

Blair

MarsCon Masquerade Ball 2007

MarsCon Masquerade Ball 2007

MarsCon Masquerade Ball 2007

MarsCon Masquerade Ball 2007

MarsCon Masquerade Ball 2007

MarsCon Masquerade Ball 2007

MarsCon Masquerade Ball 2007

MarsCon Masquerade Ball 2007

MarsCon Masquerade Ball 2007

MarsCon Masquerade Ball 2007

MarsCon Masquerade Ball 2007

MarsCon Masquerade Ball 2007

MarsCon Masquerade Ball 2007

MarsCon Masquerade Ball 2007

MarsCon Masquerade Ball 2007

MarsCon Masquerade Ball 2007

MarsCon Masquerade Ball 2007

MarsCon Masquerade Ball 2007

MarsCon Masquerade Ball 2007

MarsCon Masquerade Ball 2007

MarsCon Masquerade Ball 2007
---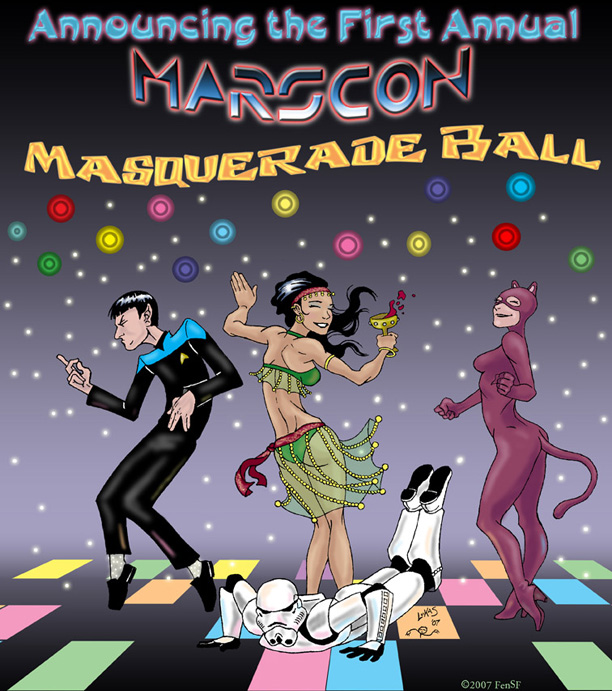 What? It's the week after Halloween and you still want to show off your (G or PG-rated) costume? You'll want to come to the first annual MarsCon Masquerade Ball. Here are the details:
Snacks, Punch, Dancing, and a Cash Bar
Saturday, November 3, 2007
Holiday Inn Select
Bloomington, MN
Meet & Greet at 6:00 pm
Ball 7:00-10:00 pm
Tickets $10.00 from a ConCom member or via PayPal on our registration page. (A small PayPal service fee will be added.) Tickets purchased by PayPal will be held in your name at the door.
Everyone who loves costuming should take note of the following:
There will be a costume contest, determined by popular acclaim. First prize is two free registrations to MarsCon convention. An additional prize (donated by The Costume Guild of MN and/or The DreamStitcher) will be a $30 gift certificate to SR Harris (fabric warehouse on the outskirts of the Twin Cities).
The next day, Sunday, there will be a coordinated expedition to SR Harris, led by native guide, Rae Lundquist (a.k.a. The DreamStitcher). The group will start assembling in the parking lot of the Holiday Inn Select) at 11am that Sunday morning, and will carpool to the site in Brooklyn Park. Maps will be provided.
Note: our friends at SF Minnesota will be showing part 16 of their Classic Horror Films series ("Back to Basics: 1992-1995") — also in the Holiday Inn Select on November 3rd. RSVP requested for the films. For details or to RSVP, call Eric M. Heideman at 612-721-5959. Attend both.
---
Web Pages by Ben
Photos by Ben Huset
Last revision Nov-04th, 2007
by Ben

Counter started Nov-04th, 2007
-
Comments welcome